[MVSD279]  ごっくん・中出し・アナル・強制レズ!性奴隷ザーメン漬け輪姦
Five girls are having a nice and quiet party with food and wine. Some guys come busting in and start groping one of the girls. When she complain she is presented with some kind of contract. They also start tearing the clothes of one of the other girls. This apparently persuades the girls to let them join the party. After After eating the food and drinking the wine they are surly not satisfied and force all the girls to undress before they line them up. The girls are then forced to perform blowjobs, switching between the boys. One of the girls receive a load of cum in her mouth before she is forced into licking one of the other girls. Another girl gets the same treatment. One girls tries to make a phone call but is caught. As a punishment she is forced to swallow multiple cum loads, one by one.
After a short break three of the girls are handcuffed and multiple guys are groping and fingering them. Their pussies are lubed up before the get a round of Hitachi wand and finger treatment until they come. next they get multiple cum loads sprayed on their pussies. Next the action moves to the bedroom where two of the girls get a round with anal breads and vibrators. One of then ens up squirting on the bed before they get a bigger vibrator up their assholes. The anal vibrator is soon accompanied by a dildo in the pussy as well.
Next there is a new round of group blowjobs before they eventually start to fuck them on the sofa. After a while of symmetric gangbanging they one by one receives multiple creampies. In the next scene two of the girls are wearing a butt plug and one of the other girls is forced to remove it. Some close up fingering action on both holes leads up to multiple small egg vibrators being inserted. While wearing these vibrators they are forced to suck multiple guys, and eventually the get fucked in the pussy while still having the vibrators up their ass. Sonn the vibrator are replaced with dicks and we get to see some ass fucking action that ens in anal creampie and a closeup of the cum pouring out of their gaping asses. This is repeated multiple times with different guys. More guys join in and the two girls get to experience some double penetration. More anal and pussy fucking ends in yet more creampies.
Another break and now the girls are all dressed in bikinis, and at this point they look more than happy to perform blowjobs. Some of the girls also start rimming the boys. It leads up to some gang bang action with everybody involved. We also get some nice symmetrical fucking where all the girls are lined up or in a circle. Yet again it all ends with creampies.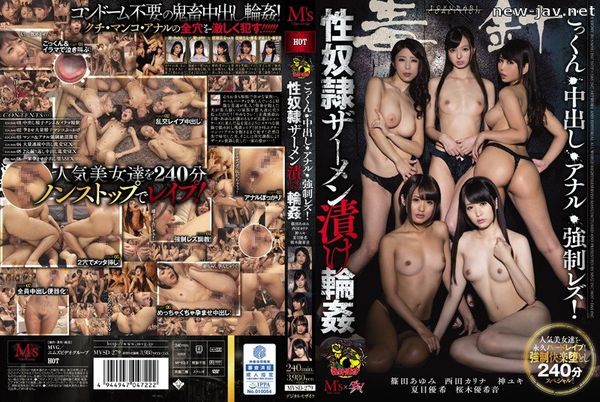 new-jav.net_MVSD-279.part1.rar
new-jav.net_MVSD-279.part2.rar
new-jav.net_MVSD-279.part3.rar