Archive for the 'AROMA' Category
Saturday, April 8th, 2017
[ARM205] 大堀香奈のすっぽんディープスロート Kana Ohori
This is a title from the Aroma Planning label featuring Kana Ohori. Ohori plays a cock-obsessed woman in all the scenes. She fellates men and swallows cum portraying a demented slut.
Scene One (0:07 ~ 35:46)
Ohori is standing in front of a bed, her back to the camera. She's wearing a light brown skirt and a dark blue cardigan. She takes off her shoes, lifts her skirt, removes her pantyhose, and proceeds to kneel on a bed with about half a dozen dildos and vibrators spread out around her. She starts rubbing her cunt through her panties before taking them off. She eventually has a dildo in her mouth and either a vibrator or another dildo up her cunt. Around the 12-minute mark she starts fantasizing she's a student in a room with two male actors. Ohori-the-student is wearing glasses and a schoolgirl sailor uniform. The actors then start teasing her body. She is soon half naked, with fingers and vibrators rubbing her clit. At the 17:30 mark we return to Ohori's bedroom, where she has fingers in her mouth and in her cunt. We then move back to Ohori-the-student who soon has a dick in her mouth. A few moments later she's fellating the two guys and they come in her mouth. Ohori-the-student then rubs her clit with her fingers while deepthroating herself with three fingers. At the 33:45 mark we're back in the bedroom, where Ohori climaxes and finally leaves the bedroom.
Scene Two (35:47 ~ 1:15:27)
Ohori appears in a sex parlor corridor wearing a black raincoat and brown boots. The raincoat is open and reveals her naked body. She's fondling her breasts and rubbing her pussy. She turns a corner and enters one of the rooms where a guy is masturbating watching porn movies. Ohori starts sucking his hard cock furiously until he comes on her face. She then collects the cum with her fingers and swallows it. She cleans the guy's cock and leaves the room. She then enters another room and proceeds to suck the guy who's sitting there. He comes in her mouth and she leaves the room. She finds a guy in the corridor and he becomes her next victim. The guy comes in her mouth and she leaves. We next see her on a different floor, where guys are shopping for porn DVDs. Ohori walks up to a guy, forces him in a corner, takes his pants off and starts fellating him. She then sees a second guy shopping for DVDs and pulls him in. Now she's taking turns sucking the two guys. They come in her mouth and the scene ends with Ohori swallowing the cum.
Scene Three (1:15:28 ~ 1:42:55)
Ohori is wearing the same black overcoat and brown boots seen in the previous scene. She's sitting on a red sofa, fellating a naked guy who is standing next to her. She eventually sits on the sofa with her thighs open. The guy starts rubbing her cunt with his fingers. A second guy appears, staring at her cunt. He then performs cunnilingus while the other guy plays with her tits. Ohori later fellates the two guys and fucks them one at a time. One of the guys later comes in her mouth and she swallows the cum. The scene fades out while she's fellating the other guy.
Scene Four (1:42:56 ~ 1:53:16)
Ohori is facing the camera. She is addressing the viewer and eventually goes down on her knees, giving the "viewer" a blowjob while keeping eye contact with the camera. At some point the camera moves to Ohori's left, and the effect is lost. The guy comes in her mouth, and she swallows the cum with her gaze fixed on the camera.
The credits appear on the screen and the movie ends at 1:53:32 with a last glimpse at Ohori.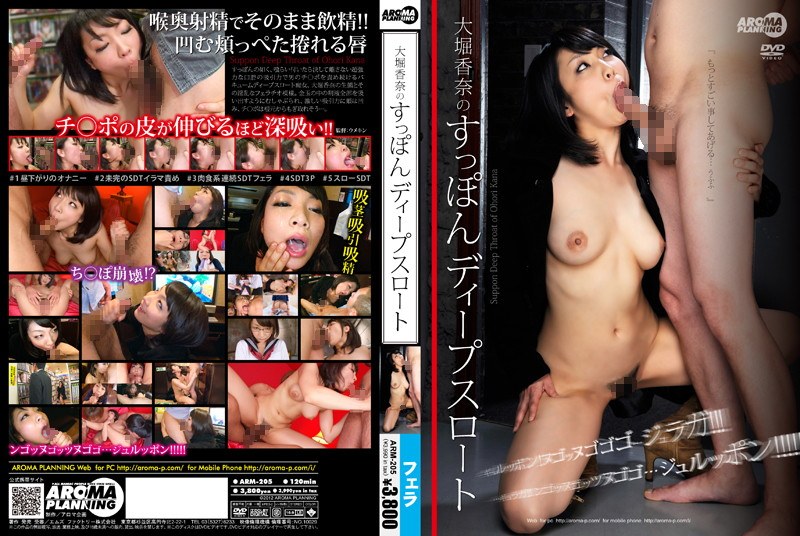 new-jav.net_ARM205.wmv