Archive for the 'ATTACKERS' Category
Sunday, February 5th, 2017
(RBD-352) Shou Nishino
This movie is an asian product coming from Attackers jav studio. It's talking about girl who was molested and fuck in public place.
Act 1:
Sho is in the cinema with a friend (a girl). She is shocked when she sees a man touching the pussy of her friend who likes it. after the movie, Sho talks about what happened with his friend and goes home followed by the man.
Act 2:
An other day, Sho goes to the movies theater with her boyfriend. While his boyfriend leaves to phone, the man sits next to her and starts to caress her. She is frightened and does not move. On returning from her boyfriend, she runs away from the man and returns home. The guy follows her and assaults her at home. He begins to rape her on the sofa and then on the floor (kissing, pussylicking, forced blowjob, anal, missionary, cowgirl…). She is afraid and scream. When he has finished, he shoots a photo in order to blackmail her.
Act 3:
A few days later, the guy forces sho to go back to the cinema. In the room, he begins to kiss her and caress her and licks her pussy. She is frightened but begins to like it. Now, The guy asks her to suck his dick and she runs timidly. Then they have sex on the cinema theater (kissing, reverse cowgirl, anal). She does not admit that she likes it and refrains from shouting.
Act 4:
The next night she made a nightmare about what happened and wake up in the night. She begins to touch and masturbate thinking of this guy until the orgasm.
Act 5:
The next day she walks down the street and is stopped by the vibrations in her panties. The guy approaches with the remote control of the vibrator and takes her to the cinema. She is so excited by the vibrations that she struggles to hold up to the movie theater.
The guy supports her in the corridor and places her against the wall. He begins to caress and grope her near the other customers until she enjoys.
So she follows him into the movie theater and they do not sit in front of the movie : they embrace hidden in the dark, then she kneels to make a deep blowjob until he cums in her mouth and she swallow.
Act 6:
Another day, Sho goes to the movies theater with her boyfriend. During the film, the guy sits beside her. She is embarrassed and sticks to her boyfriend to make the guy leave.
But the guy does not get discouraged, he begins to caress her and fing her next to her boyfriend who is watching the film.
She closes her eyes to resist but the guy insists and puts her hand on his cock. Sho gets more and more wet and excited until the guy goes away.
Then she can not restrain herself, she tells her boyfriend that she comes back and runs to join the guy in the toilet. She jumps on him and a hot fuck starts: deep kissing, caress, blowjob, fingering, cowgirl … While her boyfriend laughs in front of the movie, she has a great time with the other guy, her breathing is panting and she screams when she enjoys it. The guy ends up cumming on her face and leaves her.
In the end, sho is alone and naked in the toilet when her boyfriend knocks on the door…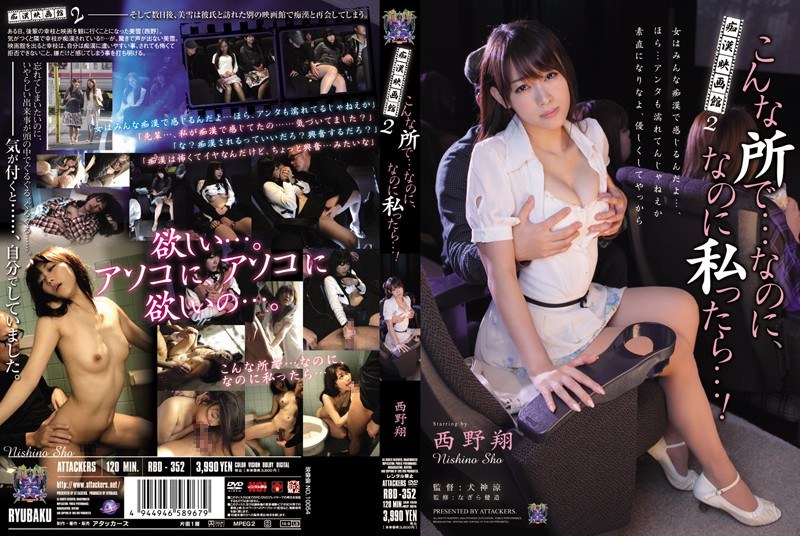 new-jav.net_RBD352.avi