[TID011] 私は彼女が昼間京子真紀のオフィスに電話をかけるためにバインドするとき
This is a Dream Ticket series focusing on an office girl taking a break from work to indulge her light bondage fantasies during the afternoon. Each title in the series repeats the same scenario: the girl leaves her office building, gets in a minivan and arrives at an undisclosed location. She then engages in sexual acts with a few men over the course of five scenes, and eventually returns to her workplace. The title presented here features Kyoko Maki, a veteran JAV slut.
Scene One (0:48 ~ 18:09)
Maki is standing behind a minivan. We can see and hear the traffic flow from a nearby street. She's wearing her office uniform—a waistcoat over a white shirt and black skirt. She starts to undress. Her breasts are tightly held up in ropes. She then pulls up her skirt. Her crutch is also held up in ropes. She's particularly worried about the traffic, afraid that she might be seen. To alleviate her fears, the cameraman asks her to move around towards the other parked van and back. Nothing happens—no one sees her. She finally kneels and starts rubbing her nipples and clit until she climaxes. Around the 11-minute mark she starts to fellate a male actor. He comes in her mouth and she plays with the cum for a while before swallowing it, her gaze fixed on the camera.
Scene Two (18:10 ~ 46:03)
Maki is sitting on a sofa with ropes tied around her knees. She's wearing the same office uniform seen earlier, except this time the chest ropes are tied over the waistcoat. A guy fondles her body and eventually exposes her breasts. He then starts to tease her nipples. Eventually the focus moves to her cunt, with plenty of clit-rubbing, cunnilingus, and finger-fucking. She later kneels and starts to suck the guy's toes, followed by his cock, her hands tied behind her back. There's some deepthroating involved when the guy pulls her head on his cock. He then fucks her on the sofa, assuming various positions. He finally comes on her face.
Scene Three (46:04 ~ 1:02:59)
Maki is squatting. She's naked and has ropes around her breasts and hips. There's a gag in her mouth, secured by black leather straps, and a red dog collar around her neck, to which a leash is attached. A guy pulls her leash and spanks her for some time. She then pisses on the floor. The gag is removed and two guys appear. She fellates them until they get real hard. She then deepthroats the guys until they come, mostly on her face. The scene ends on a freezeframe.
Scene Four (1:03:00 ~ 1:20:33)
Maki is tied on a red chair. She's wearing a pink body conscious suit, with ropes around her chest, hips and thighs. There's a red gag in her mouth and a black blindfold around her face. A guy teases her nipples with his fingers first, and he then uses suction clamps attached to a remote control. He later teases her clit with a small vibrator, momentarily moving the suction clamps from her nipples to her labia until she climaxes. He then puts the clamps back on her nipples, takes the blindfold off, and starts fucking her with a large white dildo. Off comes the mouth gag, and the teasing continues with a medium-sized vibrator until she climaxes.
Scene Five (1:20:34 ~ 1:53:55)
This is a one-on-one sex scene. Maki is on a bed. Her chest, right thigh and leg are held up in ropes. She's wearing black facial restraints and a mouth gag. A male actor teases her breasts and nipples. The mouth gag is eventually removed and foreplay continues. The actor later fucks her and comes in her mouth. The scene ends with Maki playing with the cum and swallowing it.
A postscript scene shows Maki leaving the minivan, waving at the camera, presumably on her way back to the office.
Credits appear superimposed and for a few more seconds on a black background. The movie ends at 1:54:36.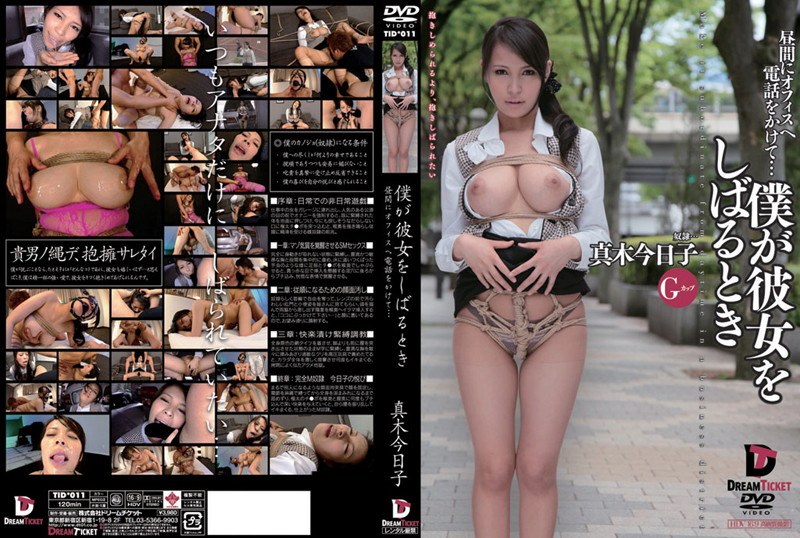 new-jav.net_TID-011.mp4