[DJE032] M・ザーメン・トランス 春原未来
Another installment of the Deepers Jelly M Semen Trance series. This one features Miki Sunohara, a consummate cumslut. Here she plays the cock/cum-obsessed slut with great skill. There's plenty of eye contact with the camera throughout and this adds to the "M Trance" drama. At times she seems on the verge of losing it ! The entire Trance series pretty much follows the same basic formula, so there's not a lot to add from my previous description for DJE-024.
Trance One (1:22 ~ 32:34)
Trance One starts with Sunohara sitting fully clothed on a small leather and wood sofa for an interview. Her gaze is fixed on the camera. She then slowly starts to touch her breasts and within five minutes she's finger-fucking herself. At some point a fully-erected male actor appears. Sunohara is initially ordered not to touch the guy's penis, but this quickly ends up in a series of repeated cumshots and cum swallowing with constant eye contact with the camera.
Trance Two (32:35 ~ 1:08:24)
Sunohara sits on a sofa, answering questions. There are about twenty guys in the room staring at her from behind the camera—which explains Sunohara's gaze constantly moving between the room and the camera during the interview. A male actor enters the scene and starts to play with her breasts. He finger-fucks her and sticks a black dildo in her mouth. He then rams it into her from behind. This ends up with him fucking her on the sofa while some of the guys take turns ejaculating on her face. Sunohara then moves to the flour, fucked from behind while the rest of the guys cum on her face. She swallows all the cum staring at the camera.
Trance Three (1:08:25 ~ 1:25:16)
This is the deepthroating segment of the movie. Sunohara wears a schoolgirl sailor's shirt for the scene. The main actor rams his cock down her throat while other guys take turns ejaculating on her face. Sunohara plays with the cum and swallows it all with her gaze fixed on the camera.
Trance Four (1:27:17 ~ 1:59:45)
The last scene involves around twenty-five minutes of one-on-one foreplay and fucking leading to a 10-minute bukkake/gokkun final scene where all the guys cum on her face and in her mouth one or two at a time. The movie ends with Sunohara lying on her back swallowing all the cum from her face.
There are no credits at the end of the movie.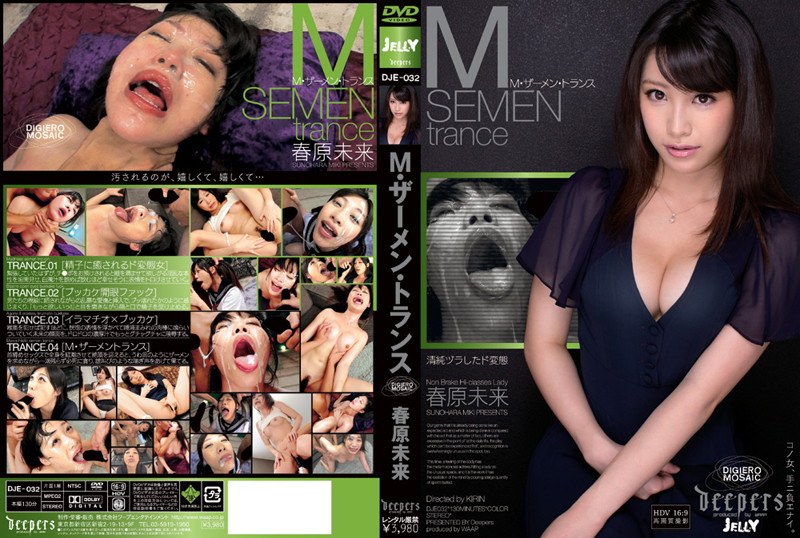 new-jav.net_DJE032.wmv