(MIGD-445) Ichika Kuroki – Bukake Room
This is an older gem from Moodyz featuring inveterate cumslut Ichika Kuroki. Kuroki started out as an ass model—and there are good shots of her huge ass in some of the scenes—but the focus here is semen. Bukkake, gokkun, irrumatio (deepthroating), she does it all in this movie.
Scene One (1:00 ~ 22:12)
Kuroki first appears with her head protruding from a cardboard box. The rest of her body is hidden from view. She will remain in this position for the entire length of the scene. She's in the "bukkake room"—a room plastered with pictures of girls with semen covered faces. There are also a couple monitors showing cum-themed movies in the background. A few guys start teasing her hair and mouth, eventually playing with her tongue. A guy later rams a dildo in her mouth and throat. Quickly several guys take turns abusing her mouth with their dicks. Some come in her mouth, others on her face and hair. This goes on for the rest of the scene. Kuroki swallows all the cum.
Scene Two (22:13 ~ 55:23)
Kuroki is wearing a schoolgirl uniform. She's sitting on tatami mats in the middle of the "bukkake room," surrounded by eight guys stroking their cocks staring menacingly at her. She kneels and starts sucking a guy's toes. Others quickly start playing with her generous ass—which is contained by strawberry-themed panties. The toe sucking turns into mouth kissing and, quickly, into cock, ball and ass sucking. Occasionally, she deepthroats some of the guys. Each time she swallows cum with her gaze fixed on the camera. Later she holds a small plexiglass board on which she collects cum. She laps it up and plays with it for a while before swallowing it. Still later, she undresses and puts on a navy swimsuit. Guys take turns ejaculating in her mouth and on her face. Eventually, she starts collecting the cum in a surgical tray. At the end of the scene, someone empties the tray on her face.
Scene Three (55:24 ~ 1:22:05)
Kuroki is kneeling on the tatami mats, naked. Her wrists and ankles are held up in black leather bands. There's a white gag in her mouth, and rabbit ears on her head. A black dog collar and leash complete the accoutrement. A guy starts spanking her and moves her around the room for a few moments. He teases her breasts and uses a small vibrator on her cunt while he sticks his fingers up her ass. This is followed by a large pink dildo shoved in her cunt. She then gets small plastic forceps stuck in her mouth. She soon starts fellating and deepthroating guys one at a time until they come in her mouth. Eventually, a bottomless plexiglass bowl is fitted around her face and several guys ejaculate in the makeshift contraption, half-burying her face in cum. She swallows most of it before someone takes it off.
Scene Four (1:22:06 ~ 1:53:24)
Kuroki is wearing a navy schoolgirl sailor uniform, complete with white sox. A guy starts kissing her and teasing her breasts and nipples. He eventually takes off her white cotton panties and starts playing with her cunt. She fellates him and he then starts fucking her, assuming various positions. At some point a dozen guys appear and they all start teasing her body. The main actor then starts fucking her from behind and the guys take turns ejaculating on her face and in her mouth. She moves on her back and more guys come on her face. Kuroki swallows all the cum at the end of the scene.
Recap (1:53:25 ~ 1:58:40)
This is a digest of all the main bukkake scenes from the four previous scenes.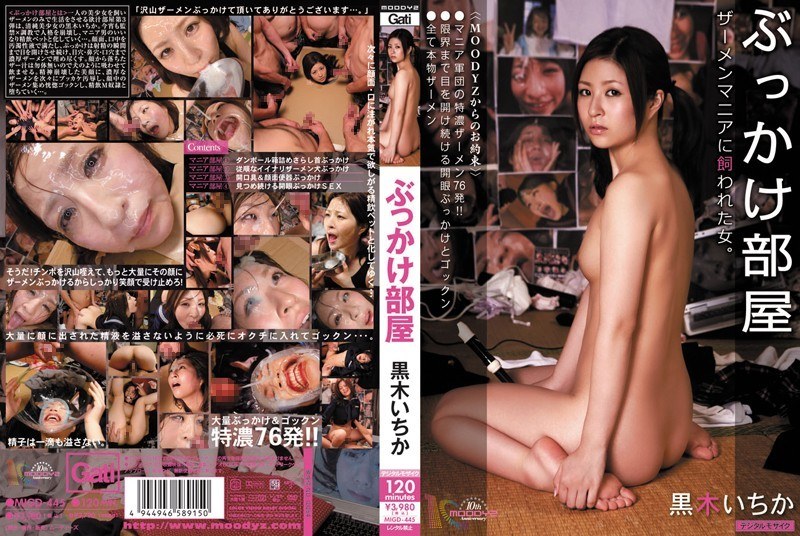 new-jav.net_MIGD445.avi