Archive for the 'V&R' Category
Wednesday, February 21st, 2018
[VSPDS647] 屈辱の学生
Age on production date : 19 years 2 months 23 days
TSUNA KIMURA is seen kneeling at "her" wheelchair at her "school".  Her right leg is encased in a white cast, which encourages a viewer's sensation that she has in some way damaged this body part.  She is hobbling home on "her" crutches.   She is adorned in a SCHOOLGIRL.UNIFORM.  In her free time as a hot crippled teen, she stops on the way home to visit a middle aged balding japanese redneck, she eyes the perpendicular pup tent halfway up his standing height.   Then she has to go up a steep hill, and a random business man decides she can ride piggy back up that shiznit, whilst giggling about japanese current events.
That night, he sports a stiffy in bed.  He falls asleep in some brief psychadelic cut scene.  For approximately 15 seconds he is standing naked in front of her in some classroom.
Apparently, the random business dude who carried her up the hill and then sported the aforementioned bedtime stiffy is her teacher. As he awakens from his teacher chair, which is VERY TYPICAL OF ALL SCHOOL TEACHERS WHILST AT WORK, she is smiling up close and personal at him with that hot sexy japanese teen orifice attached to the anterior side of her lower head.  The two flaps enshrouding it wiggle a bit as some sort of directional noise comes with his ears as the intended sound wave target.
Then she is hobbling up the mountainside again.  On the side of the road, she feels the need to evacuate a warm solution of uric acid and water from her lower anterior orifice.  This occurs within the viewing range of the japanese redneck for whom she had paid a brief visit in the opening minutes of this video.  The japanese redneck decides this act is worthy of a riverside molestation session augmented by several pieces of supportive romantic cardboard.  He starts by licking her white cotton panties.  MMMMM COTTON.  He kisses her with his cottony japanese redneck mouth.  He sucks her small.natural.tits in the sunlight.  That is actually pretty hot.  HE REMOVES HIS BLUE RUBBER WORKBOOTS.   He spits on her glistening poontang.  He performs cunnilingus while she is standing with her provocative crutches.  Fingering, then some penis sucking, then he places the tip of his erect penis between her labia and some movements occur which results in the full envelopment of his stiffened rod into the hungry vortex of her hot pink vagina.  It looks a lot like sex to me, but that is just my opinion.  Cowgirl, terrible french kissing, upright cowgirl, standing doggystle with crutch assistance, a good undershot of her amazing body during standing vaginal intercourse, then she lays on the romantic cardboard by the river and accepts the japanese redneck's engorged flag pole in missionary position.  Creampie.  "He gets paranoid" and flees the scene.
Teacher finds her freshly fucked body sunning in the ravages of post redneck penetration.  He hugs her, but not too closely and endeavors to provide another soothing piggy back ride through the hills. This time, he isn't giggling as much.  Tsuna struggles to make it up the school stairs.  Meets teacher half way up the stairs, an audible informational exchange ensues.
The ensuing scene cuts to some other bitch on crutches (who is not Tsuna.Kimura) interrupting the Tsuna video.  This bitch gets accosted also while walking home, but this time its in the dark, and the man doing the accosting has an evil insidious gray hoodie on.   Oh my god, its not a legit thug, but instead Tsuna's teacher!  What a plot twist.  He places the small terminal digits of his two upper appendages inside her lower anterior orifices.  These same uppwer appendages are then employed to the task of sensually frisking her gluteus maximus.  She decides that it is necessary to both remain standing on her crutches, and secondly to encapsulate the exterior manifestation of his lower urethra with the skin flaps of her mandible.  Standing doggy on crutches.  Some romantic cardboard makes an appearance.   Cowgirl,creampie. They exchange dialogue in the japanese language.
Tsuna is performing maintenance on her cast in the locker room.  Male teacher pays the female locker room a "school-system approved observational visit".  Male teacher who wore his evil hoodie the night before to "rape" another leg-casted crippled teen schoolgirl, honorably assists Tsuna in a purely platonic leg-cast maintenance session in the female locker room.  I wonder where this is headed?
Man that cast seems sexy to him…….he starts with some terrible octopus-breath french kissing.  She hates it, no she doesn't, she hates it, no she doesn't……she likes it.  She likes it enough that she needs to suck his dick right here, right now.  But before that, she needs to approach it timidly.  So she tongue flicks it a bit first to make sure the penis she intends to suck for money on video doesn't have ulterior motives (other than undocking its protein payload).  Her mandibular massage must have been aesthetically pleasing because his raging rammer squirts his nut butter into her food ingress gap.  She displays school pride by dribbling teacher's DNA juice back onto her hot sexy teenage palms.
Now she is standing before him in the classroom.  There is never any "other students" at this school, so it must be after hours.  Terrible french kissing occurs.  Her right mammary gland is checked for cancer.  Her left mammary gland gets licked by the terrible french kissing rapey teacher.  He is wearing crimson colored Mr. Rogers sweater in case you wanted to know.  She, being at "school", is once again in a schoolgirl.uniform.  Her deshrouded breasts look like they would please any rapey teacher greatly.  Now she requires a reproductive organ inspection, beginning with a gloveless censorless fondling of her white panties.   Her leg cast is large and in charge.  Suddenly her bottom clothing is gone, and the examination of her body escalates in intensity.  By his teacherly scientific determination, it is too hot in the classroom for his shirt, thus he removes it from its previous location which had been encapsulating his midsection and arms.  He is licking her naked bits.  What a turn on off.  Ok, finally she is touching his penis.  She hobbles down and decides his half-mast needs a spit polishing.  OK, that is pretty hot.  Her curves are outrageous.  He bends her over a schoolchair and renders her a fine poonanny-pounding. The perfect baby making hips of her hers sing to me, as their hips collide sending ripples of heaven through the medium of her exemplary butt muscles.  He grabs her arm from behind, "for her comfort". He lays her back on the inadequately sized romantic schoolchair, and penetrates her with his single-tined pitchfork. Her nipples look stiff and savory. Creampie.  Closeup of the anterior side of Tsuna's cranium.
Fond memories of the post-rape unsolicited teacher sex appear in black and white. SUDDEN BREAK IN VIDEO.  Teacher snaps back into the "real" reality.  Teacher stands before injured Tsuna in the classroom.  This time she is EVEN MORE INJURED (which means even more sexy, right?)  But no he breaks down in a pity parade and kneels before her window-illuminated wheelchair seated broken body.
Shit written in japanese.  The end.  Enjoy.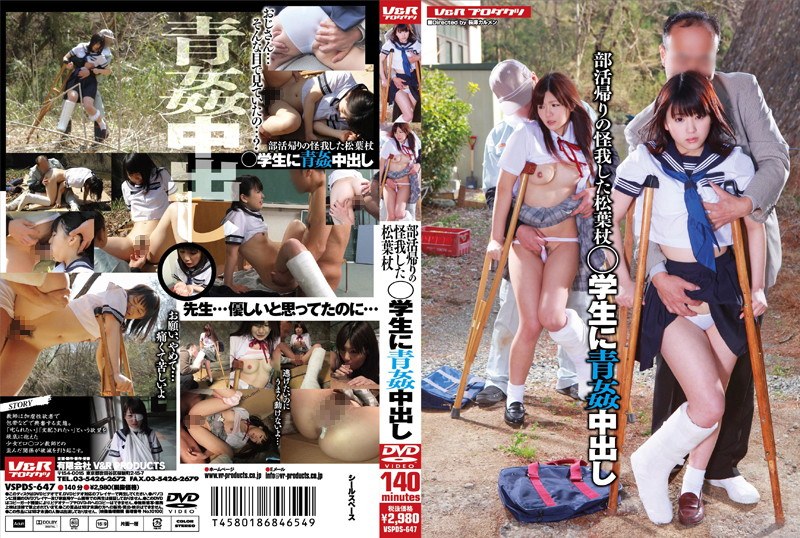 new-jav.net_VSPDS-647.mp4