[CWM-141] Mizuki Sai – 23 Year Old Woman Work in Trading Company
This is a mock documentary from Club Waap's Washing Machine sub-series featuring 23-year-old Kana Mizuki—a young girl with a cum-related fixation. Mizuki works as a secretary for a Tokyo trading company. One day she decides to indulge her semen obsession and goes for an interview with a documentary filmmaker. She and the filmmaker agree to shoot a bukkake movie at her workplace—but first, the director insists, Mizuki must take part in a bukkake scene that he sets up for her. She passes the test, and the rest of the movie is shot at her workplace.
Scene One (0:01 ~ 8:26)
This is the initial interview at the production company. Mizuki and the prospective director discuss the project. She is shown covers of a few bukkake movies so she can visualize what the project would involve. They eventually agree to a practice/test session to be held later.
Scene Two (8:27 ~ 33:04)
Mizuki shows up for the test session. She has no idea there are more than 25 guys waiting for her in the next room. She opens the door and cries out in shock. She doesn't really want to do it anymore, but it's too late. She sits on a sofa and two guys start teasing her breasts. Soon several guys are all over her and within a few minutes there's a large vibrator rubbing her cunt through her panties. She then takes off her clothes and the vibrator is now applied directly onto her cunt. Several guys eventually stand around her and she fellates them one after the other until they come in her mouth. The rest of the guys take turns ejaculating in her mouth and on her face. After a short black out, we see Mizuki sitting on the sofa in a white bathrobe drying her hair with a towel, answering questions for the director. They will go forward with the office shoot.
Scene Three (33:05 ~ 40:20)
The scene starts at 7am in front of Mizuki's apartment building. We follow her on her way to work—on the street, at the metro station, on the subway train, and eventually at her workplace. Mizuki is summoned to a small meeting area adjacent to the office for a meeting with the director. She finally shows up and he tells her they must find locations for each scene. Once that is determined, the bukkake scenes can start.
Scene Four (40:21 ~ 56:29)
Mizuki is surrounded by employee lockers. A guy shows up and starts to tease her body. He lifts her skirt and starts teasing her pussy by rubbing a vibrator over her pantyhose. He then sticks his cock in her mouth as she kneels in front of him. She fellates the guy as several more take turns ejaculating on her face. At the end of the scene her face is covered with cum.
Scene Five (56:30 ~ 1:18:25)
The camera moves into the main room where Mizuki is busy attending male employees at their respective desks. She spots the cameraman from a distance and quickly walks out of the room with him. The director tells her he wants to shoot a scene in the lavatory. An actor shows up and walks away with Mizuki. After a short black out we see the couple in the lavatory. The guy starts teasing her breasts. Eventually he has three fingers up her cunt. Later the guy takes his clothes off and she kneels to fellate him. He then starts fucking her from behind when a second guy walks in the lavatory, immediately sticking his cock in her mouth. She sucks him until he comes on her face. Meanwhile the fucking is carried out on the sink, and, later, on the floor, where Mizuki lays on her hands and knees. Several guys take turns ejaculating on her face. The scene ends with Mizuki lying on her back, her face covered with cum.
Scene Six (1:18:26 ~ 1:35:35)
The scene starts out in a café where an AV actor is given instructions by the director. A few minutes later we see the actor walking in Mizuki's firm's main office. He's taken to a conference room and an employee brings him tea. Mizuki eventually walks into the room. She's wearing a black suit. They chat briefly and the actor asks her to pull up her skirt, revealing black stockings. The actor brushes her panties over to the side and sticks his tongue in her cunt. They later kiss for a few moments and the actor then opens the blinds so they can see all the employees at work in the rest of the office (and vice versa). Mizuki then kneels and fellates him until he comes in her mouth. Then several guys take turns ejaculating on her face.
Scene Seven (1:35:36 ~ 2:00:22)
The AV actor appears once again. He walks into the office after hours. Mizuki is still at her desk, evidently working overtime. She's alone in the office, listening to her iPod. The actor starts teasing her body, eventually tying her hands behind her back with black leather restraints. He then bares her breasts and puts a red gag in her mouth. He bends her over the desk and starts teasing her ass and cunt with a large vibrator until she pees on the floor. The actor then strips and takes off Mizuki's mouth gag. She eventually starts licking his ass. The actor then fucks her assuming several positions. While Mizuki is on her back, several guys take turns ejaculating on her face. The scene ends shortly after a close-up of Mizuki's cum covered face.
The movie ends without credits at 2:00:22.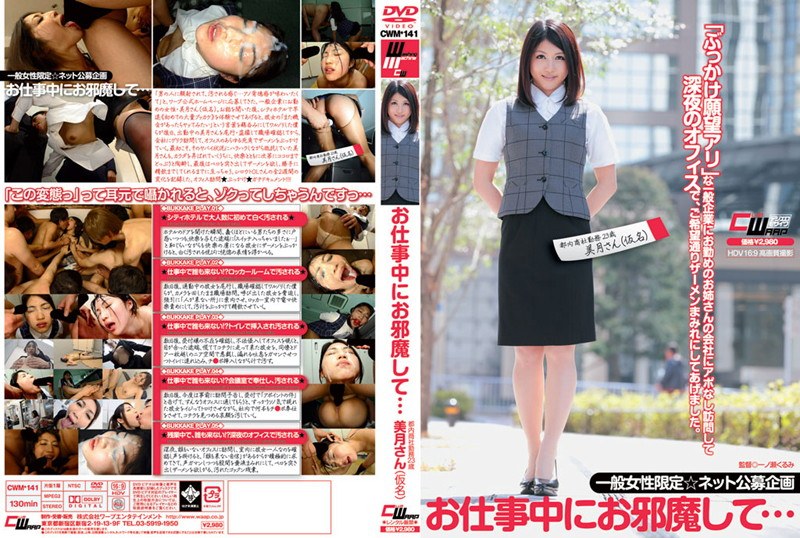 new-jav.net_CWM141.avi